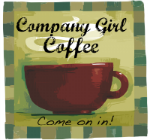 Hey Coffee Girls – grab a cup of Joe and a toasted bagel or cinnamon raisin English muffin with cream cheese and settle in. We're buried under snow.
Okay – we're not entirely buried under. Our sidewalk was shoveled last night and driveway was snow-blowed. But still – we've got lots of snow. It is a snow day – schools all around us are closed, closing or on delay. We will be playing in the snow later this morning. yay!

LOVING. IT.
I have been getting a workout shoveling the driveway and sidewalk – have done that twice in just a few days – so that's been a good thing. Other than the back twinges, they've been really good workouts.
I'm getting my written recipes organized into ONE Recipe Notebook (okay – one main notebook and one holiday notebook) and that feels really good. I'm just copying recipes from 3×5 cards onto 6×5 cards (2 to a page) and inserting them into page protectors in a 3 ring binder. I am keeping the keepsake recipe cards – written out by my grandmother or my mother – and using 4×6 photo page protectors for those. With tabbed section dividers – my recipe collection is all in one place. As opposed to a 3 ring binder, a 3×5 file, and a 4×6 recipe book… Condensing and eliminating. Whew!
This has been a hard week for me, though. Very emotional. My hormones are still wacky. NOT. FUN. For anyone in my house. I'm up – I'm down – I'm turned around. Can't think straight. Keep losing stuff. And just feeling – in general – icky. Half exhausted, normal cycles have yet to return so it's wearing on me. Not to mention the feelings and emotions I'm still processing after my miscarriage. I keep wondering how long this is going to last. I'm not rushing through – it's not even been two months yet – but the physical stuff just keeps me going round & round… (I'm avoiding birth control pills which always wreak havoc on me despite the promise of a return to normal cycles. My body is not normal anyway and I just have to let time heal…) It's a little like postpartum depression – only there's no "partum."
Have had some funny moments, too. I'm telling you what – my girls have kept me in stitches for the past couple of weeks. They're both far too smart for their age and keep saying stuff that just blows me away.
Example: Tonight Roy came home with a pair of snowboots for Georgie from a gal at work. They're cute black snowboots with glittery black fur inside. So Curly sees them and assumes they are for her. I tell her they are for Georgie and she is kinda miffed. Once Georgie puts them on, Curly catches my eye, then hangs her head and says, "I'm a little disappointed."
Oh my word. And Curly has been doing some exercises every day. Jumping jacks, windmills, sit ups, push ups, toe touches and more. She goes through her routine while I count. We keep adding new things like stairs. Tomorrow – I think I'll join her.
We've been talking about eating "helfy" more often and telling her that too much sugar will make her sick and that healthy foods will make her strong is starting to sink in. If I tell her that she can have only one cookie because two have too much sugar – she's getting it. And we're choosing apples and carrots and popcorn and other things instead…
YAY!
This is good for us because we need to make changes to our lifestyle. Move more. Eat less.
My one GOAL for 2010 is to lose 5 lbs every month. I have far more than 60 lbs to lose, but to say I have to lose 60 lbs this year is pretty overwhelming. So, I decided to set a goal to lose 5 lbs per month. That's just over 1 lb per week.
Manageable. Doable. No excuse-able…
So there it is – my week in a nutshell.
Linking up with Under Grace and Over Coffee, too!