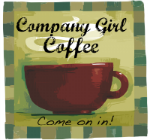 So I'm adjusting to the decaf coffee this week – and not feeling the lack of caffeine too much. Fatigue is just part of my pregnancies, so I'm happy with 1 cup of good decaf in the morning. =)
My girls & I watched the movie, Freaky Friday, last week. Although Curly is only 4, she totally understood the concept and we have been pretending to switch bodies sometimes. It's been pretty funny. She likes to be bossy (can't figure out where she gets that), and I've been imitating some of her behaviors, too. We've had fun.

Curly got her ears pierced middle of last week, and it seems like she's grown up all of a sudden. She decided to go for it after talking about it – backing out of it at the last second before – and seeing her friends at school with earrings. Georgie already has pierced ears, so she decided to go for it and did GREAT! She picked out her purple heart earrings and sat on my lap while the 2 ladies explained what they were doing. She jumped a little and said, "Ow" but then she kinda sat up and said, "Oh Cool!" before she even saw them. After that we rode an escalator – which was another big "Fear Factor" for her and since then, she's just been more confident and less fearful.
She still climbed into bed with us in the middle of the night last night – she mumbled something about "trees" and hid her face, so we cuddled for a bit before I tucked her back into bed.
Sometimes I wonder what it would be like to switch bodies with someone and live their experiences for 24 hours. And have them live mine. Like walking a mile in someone else's shoes, it's a good practice that I need to consider more often.
So today – Friday the 13th – that is my goal: To think about how OTHERS might be feeling and what they might be experiencing before I get upset or bent out of shape. I'm going to practice walking a mile in their shoes.
After I finish my coffee. =)