Did YOU know that March is National Caffeine Awareness Month? Really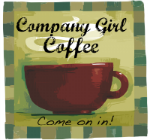 So I'm taking the celebration to heart. lol. Just kidding. I'm not drinking more coffee or tea or anything else more than normal (except for water – I am drinking more of that) but thought it was pretty funny when I read Mom's No Chaos Zone and discovered it IS National Caffeine Awareness Month.
I have actually been addicted to caffeine. As in – without it I get cranky, emotional, down in the dumps, 2-3 20 oz Starbucks with an extra shot of espresso addicted. It's not fun. Anything in excess is NOT fun. That would be WHY Scripture says to do all things in moderation. Hello?

Now, I'm at a point where I love the experience of good coffee – from the sound of the coffee machine, to the smell of the brewing coffee, to that first sip of hot sweetness, to the very last drop. But I'm down to about 1 cup a day. Sometimes 2, but usually 1. In the afternoon, I'll have a cup of tea, although not as often lately. It's hard to carry a cup of hot anything when you're hobbling around… I can drink my coffee in a thermal mug with a lid, but tea has to be in a teacup or pretty mug…
Speaking of excess, I'm really having fun starting to follow the Plus-Size Bloggers gals. I'd seen the buzz on Twitter, but it wasn't until I saw my friend Heather blogging at Plus-Size Gal that I found out more about them. These are bloggers committed to total transparency with others by blogging about their weight struggles and emotions openly during their weight loss journey. Challenging! While I'm not participating (it's closed until May), I'm following along and will be talking more about my own struggles with weight at Mommies Coffee Break. Maybe I'll join in May, but either way, it's refreshing and challenging and encouraging.
Can't stay long – gotta get all my schoolwork wrapped up and enjoy some fun time with my mom. She's come down to help for a few days – keep the girls occupied so I can focus better – and help me get a couple of things done around the house. My pantry has really gotten out of shape and we've got lots of clothes to sort through in the girls' room. My mother in law has been MAGNFICENT for the past couple of weeks in helping with the girls and laundry and dishes and whatever I've needed while I've been slowed down by my ankle. She has really done SO MUCH for us and I'm SO appreciative. She just comes in and asks what she can do and has done things with the girls – that's been a HUGE BLESSING. Thank you, Queen Thelma!!!
Have a Blessed Friday and a beautiful weekend. (And DON'T forget to set your clocks forward!)