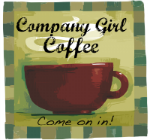 Hey Company Girls – Where did this week go? Well, pull up a chair – I've got bagels and strawberry spread, and can put the kettle on for tea. I've been drinking LOTS of tea this week for a sore through, cough / laryngitis. The girls have been sick, and I caught it cuz they love to share with me. lol. The tea & honey has been great, along with the horehound candy which is very soothing to a sore throat!
It's been a whirlwind week. Classes start up again on Monday – and I've got 2 counseling classes (debating adding a 3rd class later) that I'm VERY excited about. I'm printing out the instructor notes and am intrigued about the topics. The one course is Counseling for Women and one of Beth Moore's books, A Woman and Her God: Life-Enriching Messages (Extraordinary Women), is the text. VERY cool! Along with DVD lectures from the university, I'll be learning more about women's issues (and myself, for sure) and am really excited about writing a paper for this class. =) (I'm a big nerd when it comes to writing papers!)
Georgie seemed to have an allergic reaction to a prescribed antibiotic and it was a bit scary. After 2 doses, she seemed to develop hives, so the on-call dr advised us to give her Benadryl and she was good. This morning we took her to her peds office and gave her another dose of antibiotic: NO reaction. =) So we're still watching her. It's an antibiotic in the family of Penicillin, and we can't just assume anything – we'll have to watch and see what happens. Both she & Curly have ear infections and eye/sinus yuck, so that's how I got my lovely stuff…
And I made a major breakthrough in my kitchen this week, and I'm really proud of keeping up with it. I cleaned my desk (which happens to be in my kitchen) and have been able to maintain my reorganized kitchen for the entire week! That is a serious milestone for me. I've been getting dishes washed & put away and although I'm not always going to bed with a shiny sink, it does get shined once a day, so I'm pleased with that.
I've also had the great opportunity to participate in an online study of Ruth called A Faith Like Ruth's with Amy Bayliss, of Women's Ministry Online. The second session was yesterday, and it was really good! Amy provides a printable outline and her sessions are recorded. Worth checking out for sure! There are more sessions to come so check her link for more info. Here's info for Session One and here's Session Two.
And along those same lines, I saw that Tricia of Handfuls of Purpose, has also posted two weeks worth of the study of the book of Ruth, too, called Reflections of Ruth! You can copy and paste her posts into your word processing or text programs for printing out yourself. She's broken down a study for each day of the week, and I highly recommend checking them out. I've copied them onto pages for printing, and think I'll follow up Amy's study with this study from Tricia. Here's Week One and here's Week Two.
Oh and if you love having a household notebook, Tricia has designed 8.5×11″ planner pages! I love Graceworks and enjoy the beautiful design, layout, and practicality of her pages. I'm THRILLED that she's got notebook size pages and she's planning to produce more. These pages are available for DOWNLOAD for printing at home – yahoo! – and she's got a special for January. For more info, click here.
So that's it for this week. Feel free to visit the rest of the Company Girls at Home Sanctuary today…