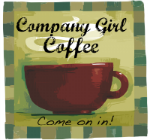 Good Morning – it is a GORGEOUS morning here. Sunny, cool (but not cold) and looking to be a really beautiful day. Got my coffee ready this morning – but you'll have to settle for wheat toast with peanut butter this morning (although for people like me, that's not something to "settle" for – I love it!) My husband, Roy, prefers his toast with peanut butter & Bob White syrup (which is much like Karo syrup, but different).

We had a neighbor come by this week taking donations for an event she is involved in every single year for her niece. We rarely get to chat with her otherwise, but just before she got here, Curly decided to get all decked out in her SWIMSUIT from last year, and Georgie was wearing her royal tiara and princess shoes. Our sweet neighbor came in and chatted with us for a few minutes, when Curly announced, "Mommy's having a baby!" This is not the first time she's done this – but having to explain that I'm NOT pregnant was interesting. She hasn't fully grasped the whole idea that we miscarried last November, and she really wants us to have another baby. We have been trying to tell her she can PRAY and ask for another brother or sister, so she's deciding to ask for TWIN BROTHERS… Like my friend, Shelly said, Mommy has to be more specific when teaching these important lessons… LOL!
WARNING: GRAPHIC MOMMY TALK HERE – Georgie's potty training has really been pleasant – although we just have this one little hurdle to overcome – she does NOT want to poop on the toilet. She'll stand in a corner and hates the cleanup process, but won't sit on the toilet to take care of her business. We had the same problem with Curly, although it was much later in the process – her potty training experience was a long, difficult thing. I'm not terribly concerned for Georgie – once she decided to wear panties and stay dry – that was all there was to the potty trianing! So once she decides that she can go the distance, it'll all be over!
Roy came home yesterday with a surprise – a set of 3 tiaras (tea-are-uhs, as Curly says) with matching princess shoes. Apparently 2 of the crowns are for princesses and the one with the hot pink feather fluff and lots of jewels is for the Queen… They've learned early, don't ya think? So after a bit of musical crowns this morning, we girls were all decked out appropriately before Curly went off to school. Georgie had to go out on the front porch to cheer her daddy & sister off to work & school. It's a thing we've started recently – greeting Roy out on the front porch with a CHEER every night he comes home from work. The girls get out there and chant their little ditties "You made it home, we're glad you're here, it's time to eat" kind of thing and Roy grins from ear to ear. Pretty fun stuff…
Got to visit with my friend, Shel, again yesterday and discussed the details of our book. It's a novel series, really, but we're talking through our main characters and getting some details nailed down. She has done most of the work so far, while I've just offered up some creative suggestions – and she's so much fun to talk with. We also got to catch up on LIFE and that was really great! She's one of those gals who knows me from way back when and she's a Queen Mommy, too!
I won't rush you off – you just enjoy your coffee and toast while I get some paperwork filled out. Maybe Georgie will give you a rousing cheer to start your day!
(Linking up with the Company Girls over at Home Sanctuary with Rachel Anne today!)